Registrar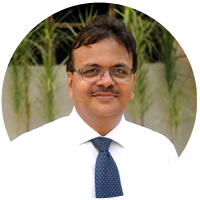 Dr. Dinesh Bhonde
Registrar,
Yashwantrao Chavan Maharashtra Open University, Nashik
Dr. Dinesh Bhonde, B.E. (Civil Engineering), M. Tech. (Structures) from VNIT, Nagpur, M.B.A. (Finance), Ph. D. (Civil Engineering) is working as Registrar of the university with effect from 13.08.2016. He has worked on the post of Controller of Examinations at YCMOU, Nashik and the University of Mumbai. He is noted expert in examinations, evaluation, civil structures, green technologies, sustainable development, e-Learning and Project Management.
He is a secretary to the Board of Management and Member secretary to Academic Council and Planning Board of YCMOU, Nashik as well as Member of Board of Examinations of three universities in Maharashtra. He has also worked as a Member on the committee constituted by the Government of Maharashtra to review the progress of implementation of examination reform in Maharashtra. He is also an expert committee member of Maharashtra State Board of Technical Education, Mumbai.
He has initiated work on first academic depository of academic awards of university of Mumbai and successfully implemented e-delivery of question paper over 700 examination centres and onscreen evaluation of engineering examination, strategic management of examination activities using new methods and ICT based techniques for Smooth conduct of Examinations and declaration of results, Conducted first on demand examination in YCMOU, full computerisation of examination office and design and development of software for question paper generation.
He has presented and published many research papers and strategic documents on civil engineering, education, examinations, evaluation, finance, information technology in National and International seminars, conferences and Journals.