Functions of Learner Support Centres
Functions of Learner Support Centres (LSCs)
Learner Support Centres are the main Implementers and very important functionaries for providing human resources in distance education.They are the pillars and mediators between the University and Learners. It acts as a light house for learners through proper counselling sessions and guidance. From the following points we will come to know how the LSCs work for betterment of Distance Education: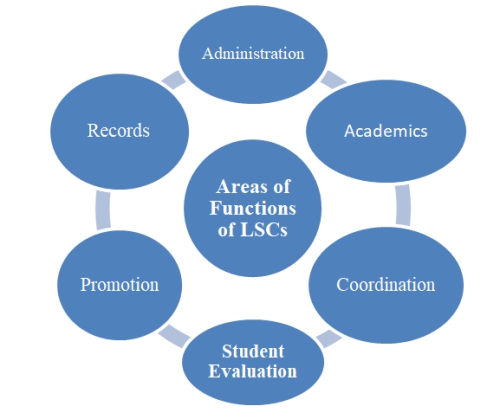 Functions regarding Administration:
Identifying academic staff and assigning responsibilities to them as per the requirement of the programs of the University
Identifying part time staff (Guest Faculty) for the LSCs
Admission conformation and student contact at the entry point
Maintaining the database of approved academic Counsellors
Organising meeting with Coordinators and Academic counsellors

Functions regarding Academics:
Organising Counselling through Contact session as per the University Schedules
Providing information to prospective and enrolled learners
Planning of Counselling schedule and conveying the same to learners
Organising Orientation program for the newly enrolled learners
Organising counselling, practical, audio-video and online sessions, seminars, etc as per programme requirement
Maintaining quality for each program offered as per the guidelines of University.
Functions regarding Coordination with:
Learner
Regional Centres
Exam Division
Student Support Division
Registration Cell
Related Schools of the University/ Program Coordinator
Functions regarding Student Evaluation:
Scheduling and Conducting exam events as per the University Norm
Assigning and evaluating programs specific assignments, projects, practicum, seminars, workshops etc.
Assigning counsellors / Experts for the paper setting and answer sheet evaluation.
Online Submission of program and course wise Internal Marks (IA) to exam division.
Sending bundles of Answer sheets to the exam division after each exam event
Functions regarding Program Promotion:
Promotion and publicity of Programmes of YCMOU in the Society through social media, newspaper, pamphlets, mouth publicity etc.
Functions regarding Records ​
Maintenance of records of YCMOU learners
Maintenance of furniture and equipment as per the requirement of the program
Maintenance of accounts for each program separately
Maintaining time to time audit statements as per the programs offered.
Maintaining and updating all the MoUs signed for each program as per the norms of the program.