From Directors Desk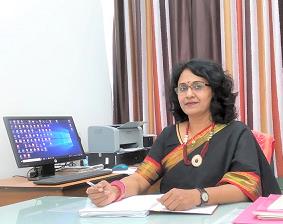 Message from Director's Desk ( Dr. Sunanda More )
Greetings to all from the Director of the School of Architecture, Science & Technology!
The India's great social leader and thinker Dr. B. R. Ambedkar expressed the importance of education as "We may forgo material benefits of civilization, but we cannot forgo our right and opportunity to reap the benefits of the highest education to the fullest extent." Education helps to develop knowledge, abilities and skills required to understand various subjects to perform trade and profession.
The School of Architecture, Science and Technology (AST) was established in 1989 to provide innovative and high quality cost effective education in Architecture, Science and Technology disciplines relevant to present needs of Society and Learners with better academic quality and student support services. This School currently, do not offer programmes from Architecture and Technology Disciplines.
Presently, this School offers Diploma, UG, PG and PhD Programmes in Science Discipline with the challenge of imparting good quality theoretical and practical education in four science disciplines, namely, Physics, Chemistry, Mathematics, Statistics and Life Sciences. These programmes from Science disciplines are approved by the UGC New Delhi. This School fully comply "UGC ODL Programmes Regulations".
All the programmes of this School are designed and developed with comprehensive approach from the renowned subject experts to ensure the quality, norms and standards of the education and examinations. Self-Learning Material (SLM)/ Textbooks/ Lab Manuals, Audio-Video Lectures etc in easy to understand format is developed by the School for the learners and is made available in soft copy format from day one at our University website. This School has adopted this policy for the conservation of our global environment. Due to this policy, this School have kept lower fees for the academic programmes.
Teaching-learning for theory, practical conduction and project work, etc for the learners is held as per the UGC norms in face-to-face mode by the qualified and experienced counsellors working at the recognized Study Centers/ Learner Support Centers; which are mainly Senior Science Colleges for the programmes from Science Discipline. Periodical Evaluation and Grading of the Study Centers/ Learner Support Centers is done by this School to ensure academic quality to impart teaching-learning to the learners by them.
Nearly 10,000 learners are enrolled for Science programmes of this School and the quality of our pass-out students is highly satisfactory with regards to the purpose of education.
I appeal you to experience best quality education from our YCM Open University !!!