From Directors Desk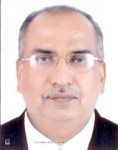 Greetings to you all!
The resources of digital age have taken knowledge to each one's doorstep upholding the dictum of the University, "Dnyan Ganga Gharoghari".
The pandemic of Corona has highlighted the importance of distance mode of education, through which learners can easily pursue programmes while continuing their job, profession or other education.
The main aim of education is empowerment through knowledge, which should enable people to earn a livelihood.
With this in view and its vision of providing health for all, the School of Health Sciences offers several need-based paramedical, vocational and industrial programmes to particularly support the weaker sections of society residing in the remote and rural areas of the State, including working people, homemakers and others who wish to acquire knowledge and provide health services to the society, thereby strengthening the overall health system of the State.
The School provides support to its learners through study centres, which are spread all over the State of Maharashtra.
Students can also learn through the Earn and Learn Scheme, which provides opportunities to students to learn while they are earning through part-time jobs and entrepreneurial projects.
I encourage all to go through the prospectus and avail the programmes of the School of Health Sciences and contribute to the Health of the society!
Dr. Jaydeep Nikam
Director
School of Health Sciences, YCMOU, Nashik.
Contact Email: dir_hsc@digitaluniversity.ac