From Directors Desk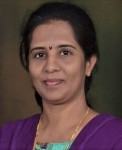 Greetings from The Director of the School
Dear YCMOU Students & Teachers
School of Agricultural Sciences (SAS) since its establishment in 1989 has not looked back and achieved unprecedented success in reaching the unreached section of our population. We have started with just 81 students enrollment in 1990 and over a period of time the enrollment has reached to more than 20,000 students every year after one decade of our existence. Moreover, the cumulative enrollment has been reached to more than 3,60,000 students in 2021. The school has practiced a vision of providing vocational, professional and employment generating mass education in regional language i.e. Marathi with a mission of reaching the unreached section of population such as dropouts from the conventional education system, practicing farmers, farm women and rural youth in Maharashtra.
Fact Sheet of Agriculture Programs : The School of Agricultural Sciences has developed 8 academic programs at the Certificate and Diploma level in agriculture and horticulture. The school, has recognized 59 Learner Support Centers(LSCs) and nominated more than 600 Teacher Councilors imparting instructions to more than 18,000 students in Maharashtra. The list of academic programs covers Certificate in Gardening, Foundation in Agriculture, Diploma in Horticulture, Diploma in Agri-business Management, Diploma in Agro-Journalism, Diploma in Fruit Production, Diploma in Vegetable Production and Diploma in Floriculture & Landscape Gardening. The quality of our students, as closely monitored and evaluated by the third party has been highly encouraging with regards to the Fitness to the Purpose of Education and Services.
Innovative features of Agriculture Programs : Academic programs in Agricultural Sciences are inbuilt with student friendly features such as Multiple Entry, Multiple Exit with Vertical Mobility to all academic programs from certificate to post graduate level, Massive Social Opportunities for education and employment to the drop outs from conventional education system, farmers, farm women and rural youth through network of Agricultural education centers.
Besides this, Self Instructional Learning Material, Face-to-Face interactive counseling Sessions for theory and Demonstration for practical component, Collective and Systematic Approach in Course Development, Supportive Learning Materials and Periodical Accreditation of Learner Support Centers(LSCs) are the key parameter for the unprecedented success in the distance education system in Agriculture.